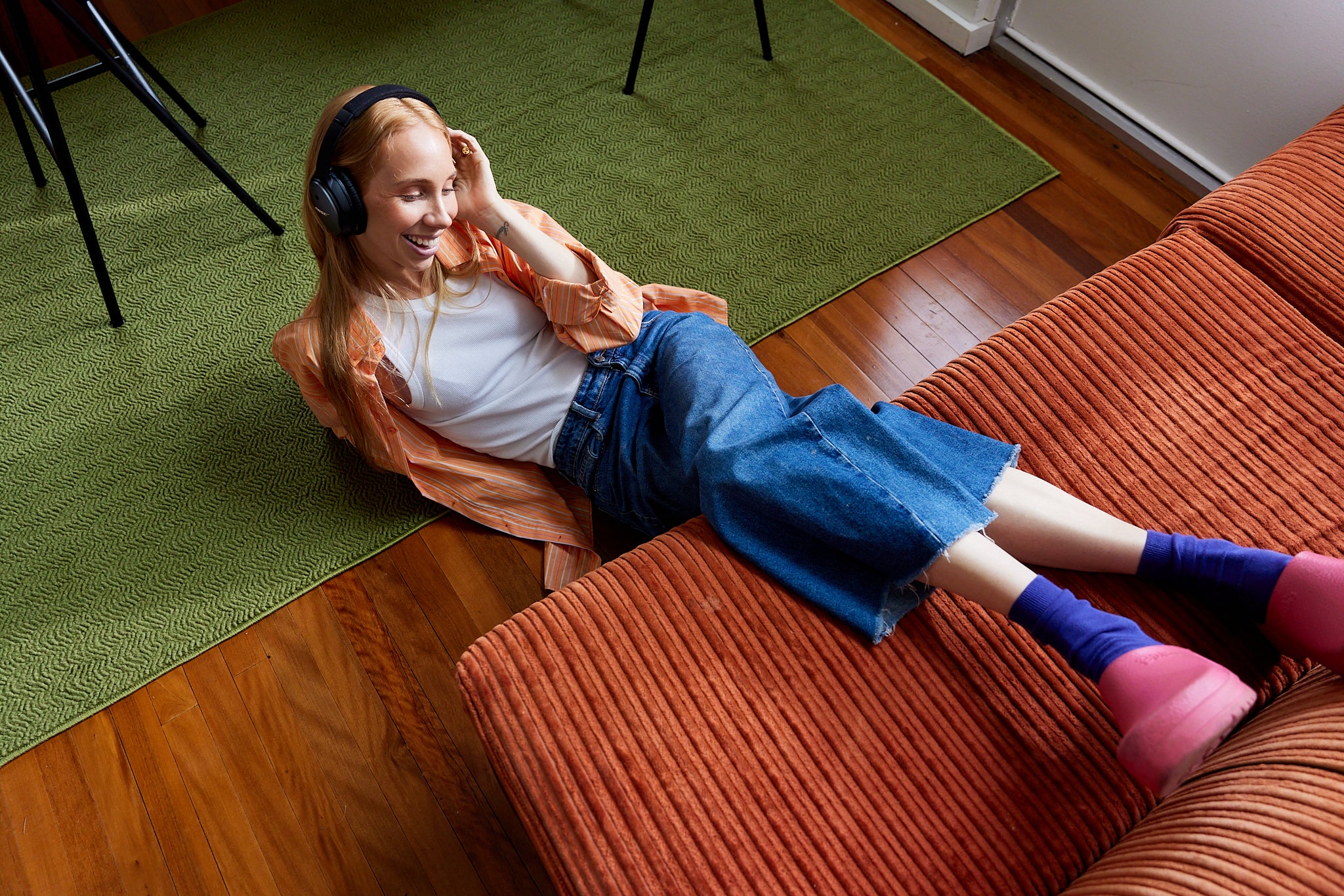 Double partners
Double designs products for the home. Your home. Our home. Homes where the most important moments happen. Where the best memories are made. From minimal to eclectic and everything in between, learn more about our brand partners and the design of their dream home!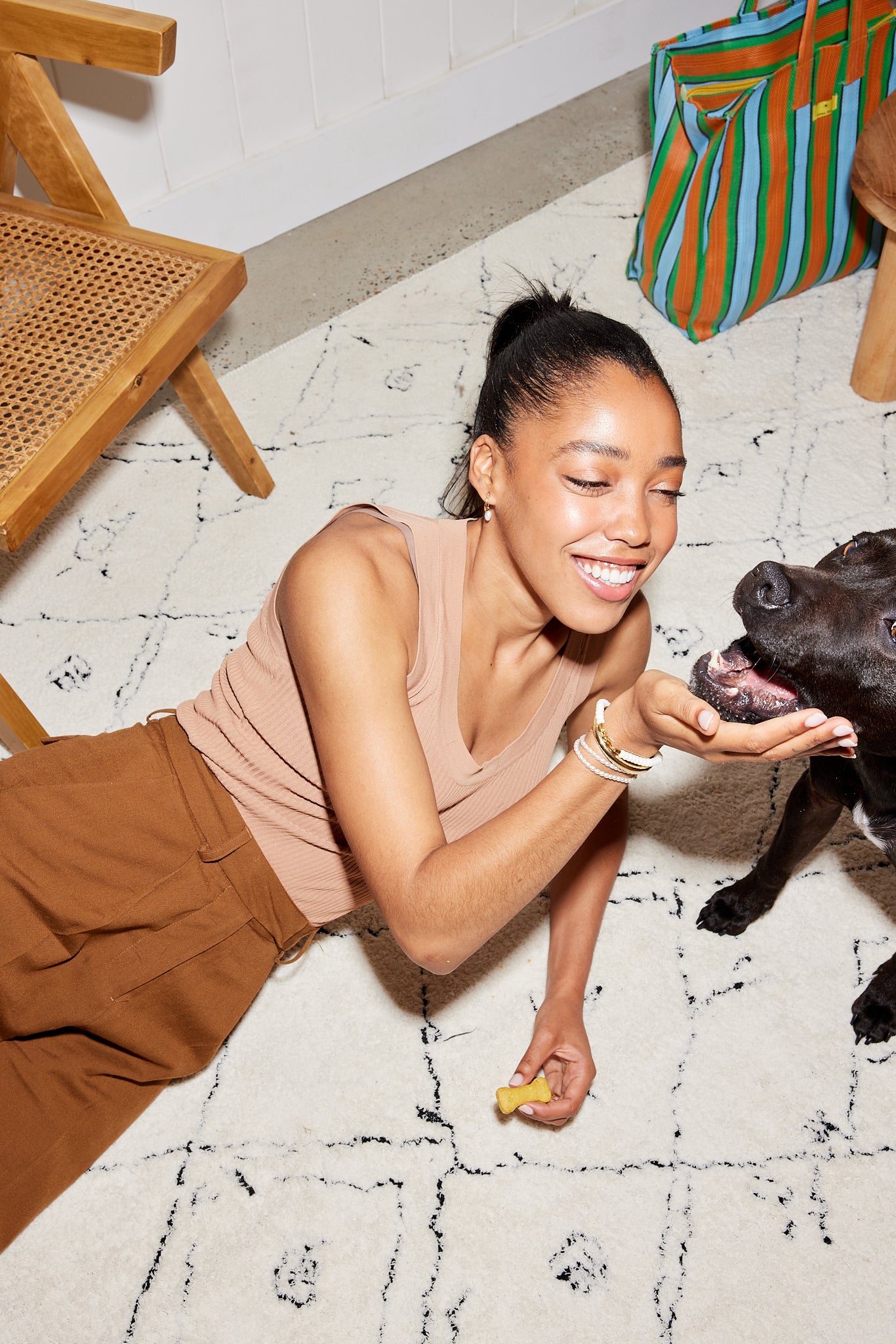 Who are you and what do you do?

Mariah Madder / Founder and Director of the Interior Design Studio, Folk Studio.
How long have you lived in your home?

We have lived here for 5 years now!
What do you love most about the space?

The natural lighting was what drew us to the space. There is an abundance of light flooding in throughout the house and this is largely due to the skylights in the living room; a really unique feature for an apartment.
Did you complete any renovations or make any big changes after moving in?

We renovated the whole apartment immediately. The space felt like it was stuck in the 70s and not in a 'cool' retro way! There was shag carpet, blue tiles, green walls and a bathroom that had been renovated in the 90's with sea shells stuck to the tiles — as you can imagine, it was pretty terrible.
What was the thought process behind the way you've styled the interior?

I love bold and solid colours styled with a neutral backdrop. I wanted the home to be the perfect minimalist shell in order for me to have fun with colours and interesting furniture pieces. All permanent fixtures in the home are white, black and grey and this was intentionally done so that the styling and furniture did all the talking.
Who and what most influences and inspires your style?

Our clients! Our client's personalities and how they live are what inform our design. Each design direction is customised to suit each individual personality and lifestyle. I think that's what makes our designs so unique, because no two clients are the same.
Which is your favourite room in the house?

I love our living room the most. The skylights, vintage sideboard and our vintage Bally poster we had sent over from New York are all really sentimental elements in our home.
What are your top tips for a well-styled home?

Less is more, especially when you want to highlight key pieces. You will be able to appreciate your favourite chair, rug or artwork if these pieces aren't cluttered or over-styled. I also think it's important to showcase sentimental items, purely to make the home feel less like a curated showroom, and more like a representation of a certain time in your life or element of your personality.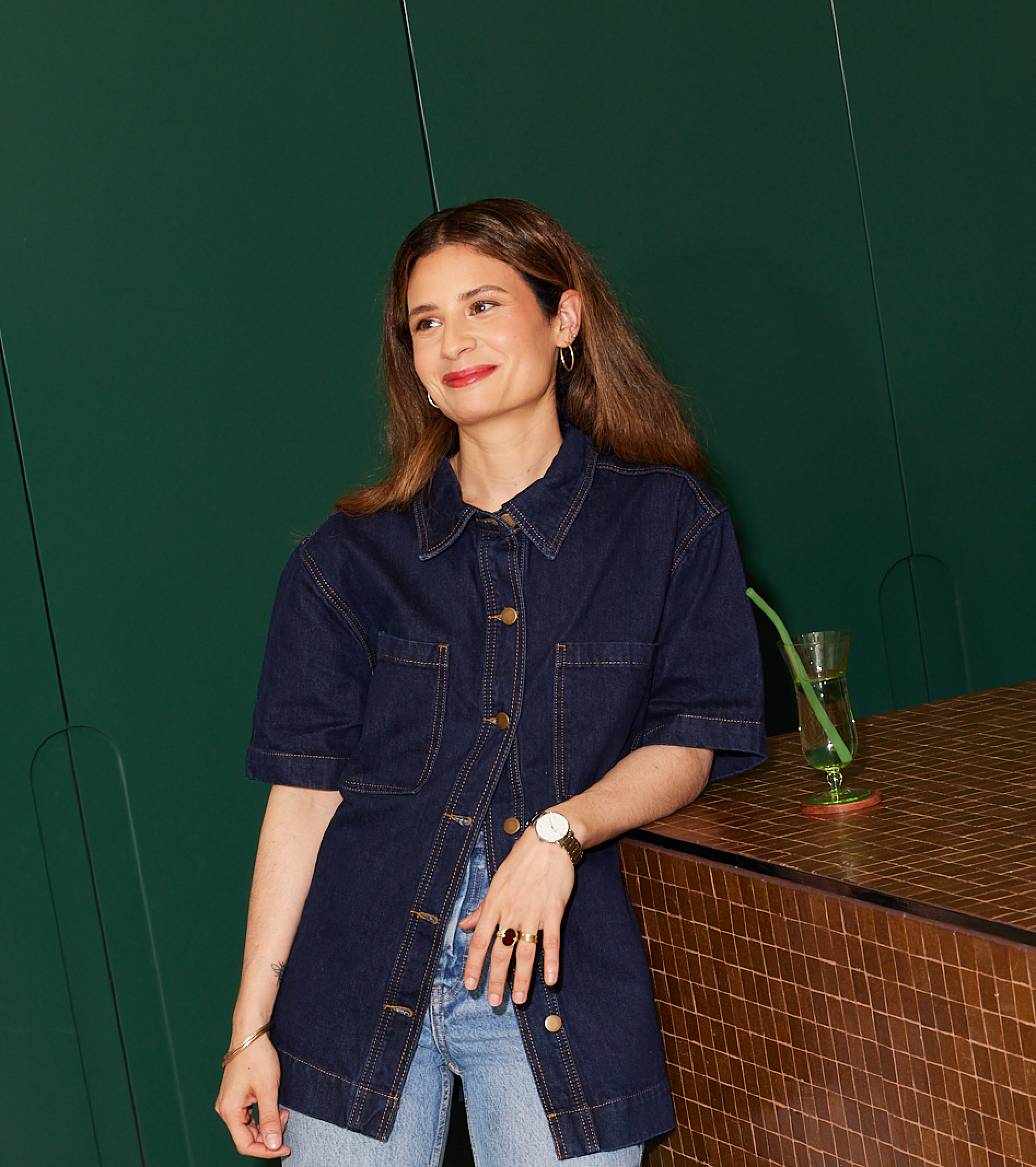 Who are you and what do you do?

My name is Liana Shaw-Taylor, and I am the Creative Director and Owner of Studio Tutti. Studio Tutti is focused on designing and creating decor with sustainability in mind. The studio is currently in development for more eco-friendly homewares coming 2023, which is very exciting! I worked previously in the magazine industry as a designer/art-director, and I draw from this experience often when creating and dreaming up pieces for the store.
What most influences and inspires your style?

My personal style is currently influenced by my role as mum! I'm all about making dressing more effortless. I own staple pieces that work together, regardless of the combinations. I have never really been influenced by trends, because if I don't like the way something fits or makes me feel, I just won't wear it.

As for my home, I really enjoy colour. When designing and styling the space, I wanted it to feel fun, lively and kid friendly. Nature was our greatest influence, as we have a view of the bush from every window! We've used lots of green and earthy tones throughout.
How long have you lived in your home?

We purchased this house in 2016. The view out the front windows (lounge room) is what sold me!
What do you love most about your home space?

The view. The charm. The layout.
What are your favourite elements/pieces within your home?

I love mixing textures. Wood and soft finishes always make a house feel so warm and inviting, regardless of how 'designed' it is. We slowly sourced furniture for the house over the first year or so of moving in — finding some pieces on gumtree, some from warehouse sales and splurging on other items we just couldn't live without. Hello Jardan Valley Sofa (in Oregano for those wondering!)
What was the thought process behind the way you've styled the interior?

I love a good colour palette! I like to mix textures and create multiple points of interest. When everything is too smooth, it feels clinical to me.

I actually don't wear very colourful clothes, so I guess I get my colour hit in my living spaces. I used the colour palette from the designed interiors to help make my styling choices. I would get a fabric/surface sample and stand in the space with one eye closed, trying to test if it would work before I purchased it! The rug took me so long to choose, but it was exactly what the space needed.

I also wanted lots of space to display the ever evolving mix of my kids' art, alongside collected vintage items. These add constant fun to the palette!
Which is your favourite room in the house?

Easy! The living room. It really is like living in a treehouse. I sit on the swing so often, and stare at the trees as my daily meditation.
What are your top tips for a well-styled home?

Have fun! So many people are scared of colour. My favourite thing to do is find an artwork you love and use it as your colour palette. Everyone has different tastes, so this is a great way to work out what colours will work for you.

Buying pieces from charity stores/op shops is a great way to test out colour in your home. Your money is going to charity, you're saving a piece from landfill, and if you don't love it, you can take it back and hope someone else will!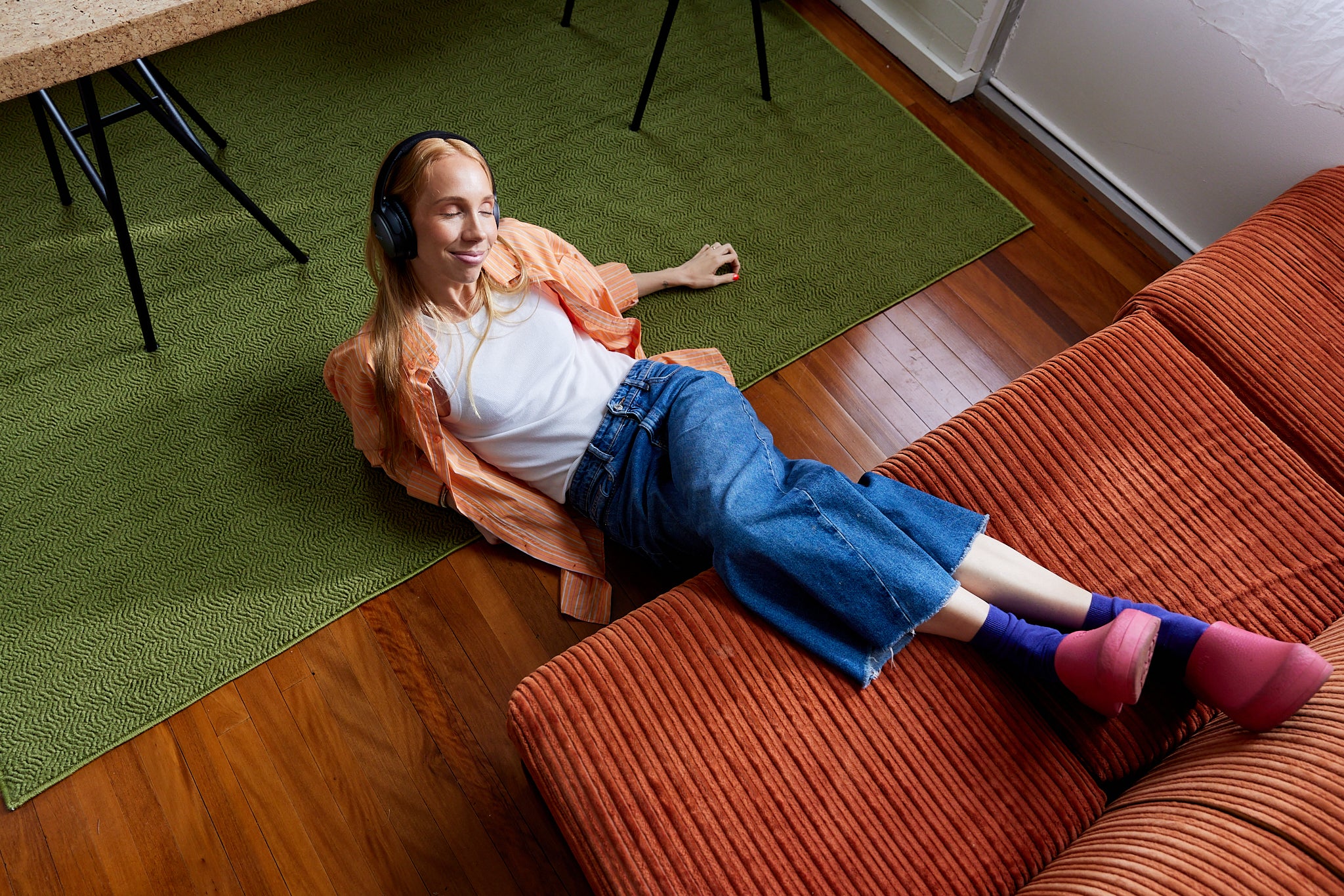 Who are you and what do you do?

Hello! My name is Madeleine, I am 32, a mum to two girls Olive (7) and Dot (3) and I live in Sydney. Besides trying to contain the sheer chaos at home with the kids and pets, I work as a Creative Consultant alongside my colourful lifestyle site, The Authentik. It's all about exploring different ways of sewing together concepts and ideas, endeavouring to make the imagination flourish in the everyday.
Who and what most influences and inspires your style?

For me, inspiration is everywhere! I am inspired by the everyday. I like to think of myself as a modern day hunter and gatherer, searching only for the things that speak directly to my soul and bringing them to life in whatever shape or form that may be.

I am forever inspired by mid-century modern design and architecture, all things vintage and colourful, nature, and a handful of innovative and original creatives and brands.

Interiors and my home setting are super important to me as they inspire my mood and creativity — trawling Facebook Marketplace and driving for two hours to collect a rug from the middle of nowhere is a common occurrence. It allows me to be creative and inspires me, even in a small way. This, and pottering around rearranging my entire home, go hand in hand.
How long have you lived in your home?

We only moved in a few months ago! (Yes there may be a room still full of unpacked boxes.)
How did you initially know this was the space for you?

We had been looking for a rental for a long time! I am super picky and refused to settle for an overpriced 2 bedroom derelict shack falling down on a main road. We had to keep extending the search! Scrolling realestate.com is usually a fun pastime for me but things were pretty grim. The minute I saw the listing, I knew I LOVED it, but it was outside of the area we were originally looking - however still convenient and way more space than on offer in other areas. The rental game is super competitive so we were lucky this one worked out! I am such a homebody and work from home, so it's important I am happy in my home - that and we want to create lots of fond family memories with the kids, despite being serial millennial "renters".
What was the thought process behind the way you've styled the interior?

The house works perfectly as a clean, light and minimal blank canvas for our eclectic furniture and bright pops of colour. Almost everything in our home is second hand as I love (and have an addiction to) collecting unique furniture and objects. There isn't much thought process really, it's more of a feeling I get when I see something! The thinking comes in after I've bought something, when I have to decide if we actually have space for another couch or not.

I love to play with colour. I like mixing old and new things — creating spaces that are clean and modern but still playful and have personality!
Is there a crossover between your interior and fashion styles?

My fashion and interior style go hand in hand. For me, my personal interests all stem from a place of creativity, integrity & authenticity. Across my wardrobe, home, lifestyle or whatever creative scenario I can immerse myself in, I would say I have a down to earth yet meticulous approach and aesthetic.

I find I always incorporate creativity into the clothes I put on each day. My wardrobe and sense of style is definitely "creative". Some people would maybe just call it "weird", however I make a conscious effort not to care about what other people think. I just dress for myself and wear what makes me feel good.

My style is always evolving so things don't stay the same for too long around here – change is as good as a holiday right?
Which is your favourite room in the house?

The airy office is my favourite! The giant glass windows let in so much sunlight in the morning and look out to big banana trees and bush land. It just has a really happy feel — the perfect space to work on my creative projects.
What are your top tips for a well-styled home?

One thing we have been working on is living with less — not over spending, and buying wisely and consciously. Although we buy primarily second hand, we still found that we were over consuming. We have been working really hard to only invest in things we truly need and that "spark joy!"

I am a former hoarder in remission! Having lots of "stuff" makes your life cluttered both physically and mentally. I've found since cutting back and decluttering that I'm feeling a lot lighter! I believe the key is to invest in pieces you truly love and will last, then play around with the smaller more interchangeable items. I also think mixing the old with the new creates such an unexpected and interesting aesthetic.